AFS Magazine is 36 pages long & will be sent by parcel mail. Each copy costs $5.00 for stamp/shipping, ink, paper,mailing envelope, PayPal fees, and a small investment in the binding machinery I purchased. It includes old school gaming modules, adventures, tables, and articles with a nod to the writings of H.P. Lovecraft, Jack Vance, Robert E Howard, and Clark Ashton Smith. This is old school grass roots publishing produced in the spider filled ruins of my basement, ring bound in the style of Chainmail(1971 Gygax/Perren).
This magazine is available in print only. If you are located anywhere within the USA then shipping is included in the cover price. If you are outside the USA and interested please PM me your address and we can work something out.
paypal is accepted, just go to
http://www.paypal.com
and my paypal is srmoberly at yahoo.com. If there isn't a spot there for your address, then PM me.
Thanks for your support
I printed up the first copy and it turned out awesome.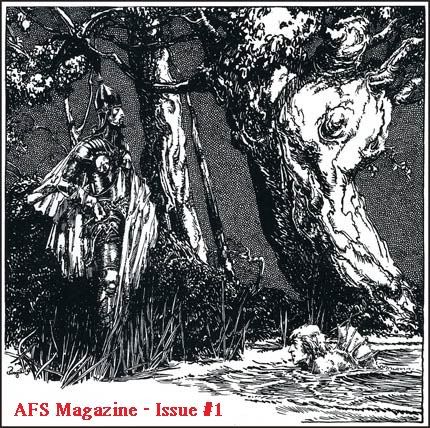 Table of Contents
Plot Hooks/Mini-Adventures: 1. Lost Treasure of El Aguilla 2. Ruins of Witch Hill by Scott Moberly

Alternate (Medieval Style) Combat/Armour Rules by Scott Moberly

Monsters of Vancian Splendor: 1. The Deodand 2. The Pelgrane by Chris Kutalik http://hillcantons.blogspot.com/

Micro Dungeon: Cavernous Haunt of the Giant Albino Penguins by Scott Moberly

Planned Encounters: 1. The Grey Ravine 2. Encounter with a Vampire in the Mist by Scott Moberly

Tables: 1. Random Events while in a Tavern 2. Coins & Related 3. Post Apocalyptic Weather Table by Scott Moberly & Brent Caldwell

Table of Semi Mundane Treasures (by Scalydemon, Vlark, Illgottenpants, apprentice, Mock26, Datagoblin, Mudguard, cwslyclgh, KingOfCowards, Varl, Svankensen, jobatett). 100 items

New Monsters: 1. Night Wolves 2. Deep Mutants 3. Savage Orcs by Scott Moberly

Bubble Helmets & Blasters: Sci-fi rules variations for Mutant Future & Introductory scenario by Scott Moberly

Fiction: The Yellow Sign by Robert W Chambers

_________________